Brother Rabbit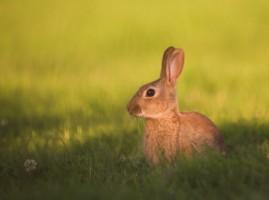 A few stories relating how St. Francis addressed a rabbit as 'brother' have been handed down to us by his early companions. Following is one recorded c.1229 A.D. by his first biographer, Thomas of Celano:

Once while Francis was staying near the town of Greccio, a certain brother brought him a live rabbit caught in a trap. Seeing it, the most blessed man was moved with tenderness. "Brother rabbit," he said, "come to me. Why did you let yourself get caught?" As soon as the brother holding it let go, the rabbit, without any prompting, took shelter with the holy man, as in a most secure place, resting in his bosom. After it had rested there for a little while, the holy father, caressing it with motherly affection, let it go, so that now free it would return to the woods. As often as it was put on the ground, it rushed back to the holy man's lap, so he told the brothers to carry it away to the nearby forest. Something similar happened with another little rabbit, a wild one, when he was on the island in the Lake of Perugia.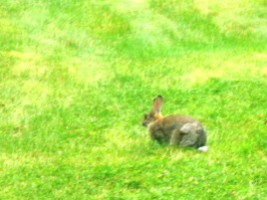 Another follower of St. Francis, St. Bonaventure of Bagnoregio relates (c.1260x63) what happened on the island in the Lake of Perugia:
... a little rabbit was caught and offered to [Francis] the man of God. Although it fled from everyone else, it entrusted itself to his hands and his heart as if to natural security.