Ecology Matters!
We care to protect the places and resources we hold sacred
for the benefit of all species - plants, animals & people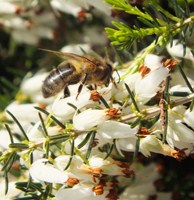 St. Francis Nature Conservation Project is an education & prayer support for the many individuals, families and communities who are caring for creation on a daily basis in so many different ways, people who are inspired & led by St. Francis' values of love, peace and brotherhhood with all God's creation.
I am sure I shall see the Lord's goodness in the land of the living.
Hope in him, hold firm and take heart. Hope in the Lord!
from Psalm 26(27)
As participants, we encourage one another, share our knowledge with one another and rejoice in each person's efforts to care for God's creation, because God is praised through every good work however small! We pray for one another to take heart, trust in the Lord, and continue to be true to what God the Lord of all is asking of us. And we remind one another that our efforts are part of His Project, that of building a Kingdom of justice, love, peace, life and blessing. As His co-workers, God doesn't ask us to be successful - only faithful!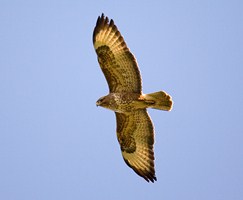 Let's commit ourselves daily to the protection and conservation of our precious & fragile ecology wherever we are so that all may enjoy what God has made. Living out our commitments can feel wearisome, lonely and thankless, and so I hope that the sections on St. Francis clarify, support and encourage our ongoing motivation for caring for creation while the list of topics on the left introduce some of the looming ecological issues & different ways concerned people like us are responding. Each day let's begin again, and pray to God our loving Creator to bless and guide our efforts. And as a joyful & caring community, let us pray for one another!

Praised be God through each person's care for creation!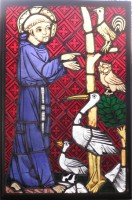 St. Francis' Sermon to the Birds
a stained glass by Diane Stanley
St. Francis: Guide for Ecologists!
By declaring St. Francis of Assisi patron of those who promote ecology, the Church declares that ecology matters, and recommends a particularly Christian way of being ecological. Reflecting upon St. Francis' example, Pope John Paul II called for an 'ecological conversion' in peoples' lives so that we can live in greater harmony with the earth in which we live and with the Creator. In this way, living in an ecologically responsible manner is another path toward holiness.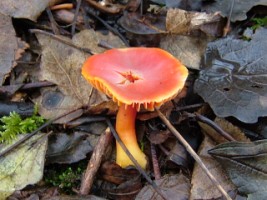 Everyone has their part to play in being ecologically responsible, caring for God's creation, and in so doing, everybody helps to sustain the beautiful world we share today and into the future. Following St. Francis, we urge people to build creation-caring communities that foster peace, and where everyone relates in a brotherly & sisterly manner seeking ways to live sustainably on the earth.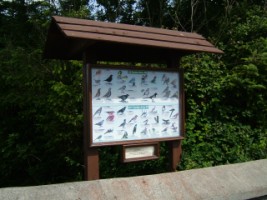 Perhaps the best way to begin to be ecological and care for creation is to learn more about nature and ecology. For instance, one way towards safeguarding the future of bees is by learning more about bees, why they are important and what sustains them. The presentation of different ecological topics in this section is an attempt to introduce you to a few aspects of God's natural creation, and offer some resources for further information about these topics. The internet offers information a-plenty about any of these topics, but we hope that these pages will get you started. Following is a reflection on St. Francis' motivation for caring for creation:
Who could ever express the deep affection Francis bore
for all things that belong to God?
Or who would be able to tell
of the sweet tenderness he enjoyed
while contemplating in creatures
the wisdom, power, and goodness of the Creator?
From this reflection
he often overflowed
with amazing, unspeakable joy
as he looked at the sun,
gazed at the moon, or observed the stars in the sky.
- from The Life of St. Francis by Thomas of Celano, 1229