An Gallbhaile, Co. Luimnigh
Galbally, Co. Limerick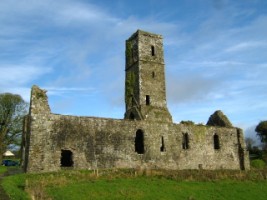 The Franciscan friary called Moor Abbey is east of Galbally village which is in a valley overlooked by the Galtee Mts. Founded in 1471, the friary was suppressed in 1540 but the new owner, the Earl of Desmond left the friars in peace until the friary was burnt in 1569 and 1570. Returning in 1645, the friars were expelled by the Cromwellians, but returned in 1658, and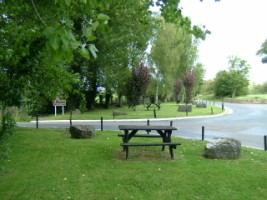 inhabited the friary until 1748. Only the friary church and tower remain today. Lots of flora can be seen in adjacent hedges including redleg, nipplewort, umbellifers, willowherbs, blackthorn, beech and oak, and local people have created a very pleasant roadside picnic area opposite the ruins.
As already mentioned, Galbally village and its historic friary are overlooked by the Galtee mountains which are designated as a Special Area of Conservation (SAC) and a proposed Natural Heritage Area (pNHA).
Praying Nature at Moor Abbey
Aware that Moor Abbey has experienced troubled times, but now rests peacefully, take some time to withdraw from your own troubles and busyness, and allow God's healing presence into your life. Read the scripture passage below, and use the images further below to reflect upon the meaning of your life:
But the land that you are crossing over to occupy
is a land of hills and valleys,
watered by rain from the sky,
a land that the Lord your God looks after.
- Deuteronomy 11, 11-12a