Cill Aichidh, Co. Uíbh Fhailí
Killeigh, Co. Offaly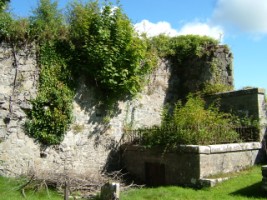 Killeigh friary was founded by O'Connor Faly in 1293 A.D. and some members of the family subsequently became friars here. The friary was suppressed by Henry VIII and Elizabeth I, but friars continued to minister quietly in the area for a further 200 years. Considered an important Franciscan house in its day, the building is said to have been very beautiful.
What little remains of this friary stands behind the present Church of Ireland church. The situation of the churchyard away from the main road offers visitors quiet and reflective solitude. Flora include large trees such as ash and cypress, flowers such as snowdrop, traveller's joy, himalayan honeysuckle and lichen on the headstones and fallen twigs. The trees provide ample habitat for bird life.
To the west of Killeigh village with its historic church and friary ruins is Hawkswood Bog, a Natural Heritage Area (NHA) and Clonad Wood, a proposed Natural Heritage Area (pNHA).
Praying Nature at Killeigh Friary
Spend a few minutes quietening down, and at the same time, notice the beauty of things around you, their shapes and colour, and the light and shadows upon them, and listen into the silence ... Read the following piece of scripture, and allow the images below to help you reflect upon its meaning:
And you, all plants of the earth, O bless the Lord,
Sing praise to Him and highly exalt Him forever.
Daniel, 3: 76