Cuinche, Co. an Chláir
Quin, Co. Clare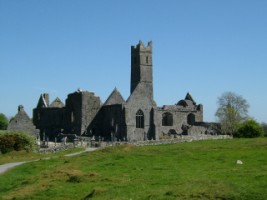 Known as the Abbey, this Franciscan friary is situated in its own space on the edge of the village of Quin. The Abbey was founded in 1433, and built on the ruins of a de Clare castle, elements of which were skillfully incorporated into the friary. The friary is notable for its well-preserved cloister, upper floor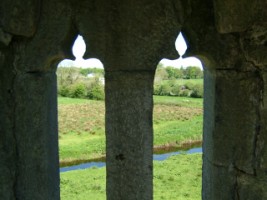 rooms and adjoining garderobe. The friary cemetery is still used as a burial ground for local people. During summer visits I identified mouse-ear hawkweed, creeping thistle, slender speedwell, thyme-leaved speedwell, gorse, dovesfoot cranesbill and hawthorn in addition to that displayed in the gallery below.
Quin village with its historic friary is situated along the route of the Mid Clare Way, a popular walking trail.
Praying Nature at Quin
Give yourself a moment to become still and let yourself become aware of the gentle loving presence of God with you now. Read the piece of scripture below until it resonates through your being. Then click on a photo, and just sit back, gaze & listen to God speaking to you:
The earth has yielded its fruit
for God, our God, has blessed us.
May God still give us his blessing
till the ends of the earth revere him.
Psalm 66(67), 6-7