An Chraobh Liath, Droim Dhá Thiar, Co. Liatroma
Creevelea, Dromahair, Co. Leitrim
Creevelea Friary is situated near the village of Dromahair, Co. Leitrim. It was founded in 1508 by Margaret O'Brien and her husband, Eoghan O'Rourke. During an overcast August day, I found the following flora: Rosebay, Ribwort Plantain, Marsh Ragwort, Common Figwort, Meadowsweet, Cat's-ear,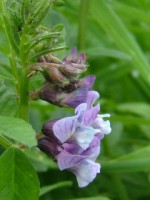 Common (aka Stinging) Nettle, Great Willowherb, Petty Spurge, Bush Vetch, Ivy and others. There were ferns such as Rusty-back, Wall-rue and Hartstongue, and Yorkshire Fog grass. With this wealth of wild growth, it is appropriate that a small carving on the side of one of the cloister pillars depicts St. Francis preaching to the birds from the cup of a flower. There are also animal motifs in the stonework under the tower.
The River Bonet flows past Dromahair village, and separates the latter from its historic friary. The Bonet river is part of Lough Gill Special Area of Conservation (SAC) and proposed Natural Heritage Area (pNHA). The 74 km Sligo Way walking trail skirts the southern shore of Lough Gill a few kilometres north west of the friary, and finishes in Dromahair.
Praying Nature at Creevelea Friary
Give yourself a moment to become still and let yourself become aware of the compassionate love of God in your midst. Read the piece of scripture below, and then click on a photo, sit back, gaze and listen to God speaking to you:
Full of honour and majesty is his work,
and his righteousness endures for ever.
He has gained renown by his wonderful deeds;
the Lord is gracious and merciful.
Psalm 110(111), 3-4