Cill Chonaill, Co. na Gaillimhe
Kilconnell, Co. Galway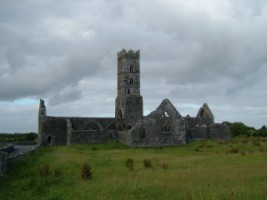 Kilconnell Friary stands majestically in a tranquil landscape of fields with its extensive complex of buildings and tall tower. Founded in 1414 by William O'Kelly, Lord of Uí Máine,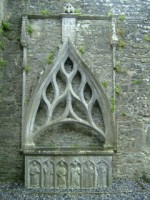 the friary is situated next to the small village of Kilconnell in Co. Galway. The friary is noted for its stone carvings and ornate funerary monuments. On a June visit, I identified the following wild flora: yellow iris (aka yelow flag), cleavers, field forgetmenot, creeping thistle, silverweed, broad-leaved dock, cocksfoot grass and rust-back fern. A yew tree adorns one of the graves. The place is very tranquil for reflection.
Approx. 3 kilometres northeast of this very pleasant rural village of Kilconnell is Crit Island West Natural Heritage Area (NHA) and a further kilometre west is Killure Bog NHA. Also to the west is the Ballinasloe Esker proposed Natural Heritage Area (pNHA) and around 3 kilometres to the northwest is Callow Lough pNHA.
Praying Nature at Kilconnell Friary
Give yourself a moment to become quiet, and become aware of God's loving presence with you now. Read the piece of scripture below, and allow it to soak into your whole being. Then click on a photo, and sit back, gaze & listen to the Lord speaking to you:
Give thanks to the Lord, all his works
Psalm 102(103), 22a