A Prayer
At Loss of a Pet Animal, Bird or Fish etc.

- based on prayers by St. Francis of Assisi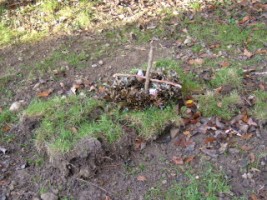 Burial Place of a Family Pet
Feel free to adapt this prayer to your own needs
Opening Hymn / Song (Optional)

Opening Prayer
Leader: Praised be You, my Lord, with all Your creatures,
Brother Sun, Sister Moon and the Stars, Brother Wind,
Sister Water, Brother Fire, and Sister Mother Earth;
All: Praised be You, my Lord, with our brothers and sisters
the birds, animals, plants, fishes, insects and rocks;
Leader: Praised be you, my Lord for creating pet's name here.
We thank you for blessing our lives with him/her,
for as St. Francis said, "all creatures under heaven
serve, know, and obey their Creator,
each according to its own nature ... better than you."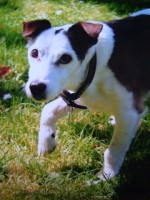 Sceolán, a much loved companion 1993 - 2011
All: Let every creature
in heaven, on earth,
in the sea and in the depths,
give praise, glory, honour, and blessing
To God Who suffered so much.
Remembering with Gratitude
Leader: We remember the times we spent together ...
Name some of these ...
Bud, a loyal friend 1999 - 2009
Your Own Prayers for Care of Creation
Leader: Let's offer our own prayers for the care and welfare of animals (and all creatures) ... Persons present ask God for some wish
After each prayer, all respond: All you creatures, bless the Lord.
Reflecting on Death & Loss

Leader: Let us reflect upon death and loss
... pausing for a moment of silence ...

All: Praised be You, my Lord, through our Sister Bodily Death,
from whom no one living can escape,
not even those most precious to us.
Yet we live in the hope that every creature which God has made will share in that time when all things will be made new.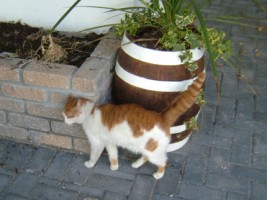 Ginger, friary cat 2010 - 2012
Prayer to the Father of All

Leader: As a family of creatures, together let us pray ...
All:
Our Father, Who art in heaven
Hallowed be Thy Name,
Thy kingdom come,
Thy will be done,
on earth as it is in heaven.
Give us this day our daily bread,
and forgive us our trepasses
as we forgive those who trespass against us,
and lead us not into temptation,
but deliver us from evil. Amen.
Closing Prayer
Leader: Let us now finish our prayer with praise & thanksgiving to God.
All: Praise and bless my Lord and give Him thanks
and serve Him with great humility.
Closing Hymn / Song (Optional)